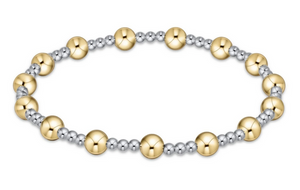 You're classic, reliable, and go-to bracelet, now in mixed metal!
Made with 2.5mm, sterling silver beads and 5mm 14kt gold-filled beads
Hand beaded on high performance elastic for a slight stretch to easily roll on and off your wrist
Measures 6.25"
Stacks well with all bracelets
How should I care for my enewton silver/mixed metal jewelry?
To maintain your jewelry's bright silver shine, we suggest that you remove your jewelry before exposure to water. Additionally, exposure to certain chemicals or environments will result in darkening of the natural silver. The product's bright color can be restored using the cleaning method below:  We recommend using a mild soap and water mixture or silver cleaning solution to polish and restore luster. For more advanced cleaning you may use a soft polishing cloth.