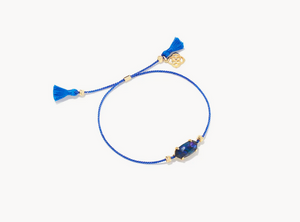 Make the Everlyne Navy Cord Friendship Bracelet in Navy Abalone a part of your everyday stack. A simple braided cord featuring our signature icon shape, this polished novelty is an effortless addition to any collection (and gives back important causes!).
Metal
14k Yellow Gold Over Brass
Material
Navy Abalone
Size
0.55"L x 0.3"W pendant, 9"L circumference
Closure
Adjustable
Material Highlight: Abalone Shell
Abalone Shell is the artful inner shell of a mollusk, whose hard, rock-like outer shell disguises the moody natural mix of blue and green underneath. Never dyed or enhanced in any way, Abalone Shell is one of nature's most dazzling materials, inspiring stability, energy, and protection.
Please note: Due to the one-of-a-kind nature of the medium, exact colors and patterns may vary slightly from the image shown.