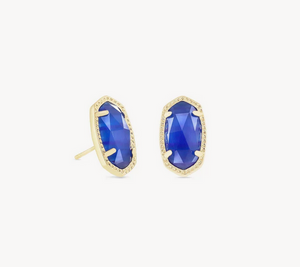 For a petite take on our iconic oval silhouette, look no further than the Ellie Gold Stud Earrings in Cobalt Cat's Eye, a classic with delicate details. These stud earrings are the perfect go-tos for everyday wear, matching with anything and everything. Add a little sparkle to your ears with our Ellie Gold Stud Earrings. Gift Hint: This is perfect for September birthdays!
Metal
14k Gold Over Brass
Material
Cat's Eye Glass
Size
0.63"L x 0.38"W
Material Highlight: Cat's Eye Glass
Cat's Eye Glass contains optical fibers that allow the stone to change hues as it captures light. The term cat's eye describes the process conducted during the creation of the stone. Before the glass cools, thin transparent fibers are strung through the glass to create a reflective look.

Please note: Due to the one-of-a-kind nature of the medium, exact colors and patterns may vary slightly from the image shown.