Calling all romantics! With their charming asymmetrical design and signature stone detail, the Ari Heart Gold Stud Earrings in Pink Kyocera Opal are a fresh take on a jewelry box favorite. Our prediction? It's only a matter of time before you fall in love with these studs.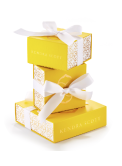 Metal
14k Gold Plated Over Brass
Material
Pink Kyocera Opal
Size
0.49"L x 0.57"W
Closure
Earpost
Material Highlight: Kyocera Opal
Our Kyocera Opal is a lab grown, stabilized opal created to mimic the dazzling structure of natural opal. Beautifully reflective and never dyed, this genuine stone takes 12-14 months to produce and is best loved for its striking flashes of colored light.
Learn more about Kyocera Opal
Please note: Due to the one-of-a-kind nature of the medium, exact colors and patterns may vary slightly from the image shown.